We are delighted to announce that Gyles Brandreth is the confirmed host for the STEP Private Client Awards 2023/24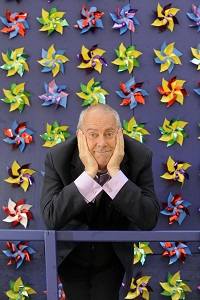 Gyles Brandreth's unique career has encompassed the role of Baron Hardup in Cinderella, MP for the City of Chester and Lord Commissioner of the Treasury. In the latter role, he countersigned the largest cheque in UK history alongside HM The Queen. He still speculates on which of them they didn't trust.
As the Sunday Telegraph Review's Editor-at-Large and a journalist for many years, Gyles has interviewed a wealth of celebrities and world  leaders. Many of these meetings were documented in Brief Encounters: Meetings with Remarkable People, a book described by doyen of  interviewers Michael Parkinson as 'quite superb'. Gyles's vast oeuvre also takes in books on royalty (Charles and Camilla, Philip and Elizabeth), rhetoric (You Talkin' to Me?), The Oscar Wilde Murder Mysteries, 7 Secrets of Happiness and numerous volumes of diaries as well as compilations of party games, jokes, brainteasers and quotations.
A habitual name-dropper, Gyles also speaks about leaders and leadership with lessons drawn from the biggest names on the world stage from Thatcher and Blair to Clinton and Bush, Charles de Gaulle, Richard Branson and Sheik Mohammed of Dubai. An expert after dinner speaker, Gyles adapts his huge store of personal anecdotes and tales to any audience which consistent success. From his early time wearing unusual knitwear on morning television to Westminster to writing, Gyles is now a regular on The One Show and Radio 4 institution Just A Minute. He's also appeared in Countdown's Dictionary Corner more than any other guest, and made appearances on everything from Dr Who to The IT Crowd to The Gadget Show.